Fly&Try - the ISE Exadata test center directly at the airport
Fly directly into our test center at the Nuremberg airport.  There you can take a room at the Hotel Mövenpick at the airport.  During your stay, you will of course have access to the computer room to visit the Exadata Machine on the spot and see it live in test mode.

Oracle Exadata exclusively for you    
 The Exadata test set is available exclusively for you for the period requested for benchmarks, evaluations or Proof of Concepts (PoCs) for free.  
During your tests we can of course support you in all aspects:  From the idea to planning to implementation, evaluation and decision-making, ISE will assist you with their know-how.  

As part of the benchmarks and evaluations, we can already advise you in the actual preparation for a possible target system and are happy to help you if required.  Also here, our common knowledge and our long-term experience and market knowledge speak for themselves.

We can give you a hand on all issues that affect you in the migration or introduction of a platform, regardless of which components (application, database, systems, infrastructure) you have operated and developed further.  This applies to both the running in your IT offices as well as internal or external service providers.  In addition, it is also possible for us to accompany you even in outsourcing or out tasking projects, to advise and to assist.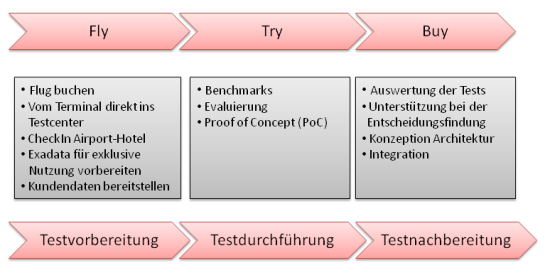 Apart from evaluations and benchmarks, our core competencies are particularly in the fields of data modeling and the logical and physical design of DWH and BI platforms.  We can assist you in planning and sizing of the infrastructure, migration planning and implementation, data center integration, concept of HA solutions of all kind (including K-case), backup and recovery, design, construction and operation of data guard infrastructures, monitoring and of course performance tuning (from the plate to the SQL statement).   


It is so easy to evaluate in the ISE Exadata test center: