ISE Oracle Technology Center
The ISE Exadata test center has its own complete infrastructure in an independent network. You can be assured during the test that your data is safe and only you can use the test structure.

Our test center is available during your requested trial period exclusively for you. You can choose between the following evaluation options:  

1. Test Exadata with your own database

You send us your database as an export file that is imported by us. During the trial period, you can run SQL benchmarks or test your programs for data import. See for yourself this kind of enormous power of Exadata.  

2. Test Exadata with your own database and your own application

It is of course possible that you test the database prepared by us with your data and the application servers you have brought. The servers are built by our technicians in the data center and integrated into the network.  

3. Test Exadata with your own database and our application servers

If you want to perform a benchmark performance of your application, it is possible to test on application servers provided by ISE. For this, we only need the quantity and specification of the servers required by you. Our technicians are preparing the server including the operating system and software (e.g. Java) in advance and provide you with a complete test environment.  You can immediately begin to install your application and do not lose time in setting up the application server.

4. Remote test via exclusive internet connection

Of course you can test Exadata remotely. For this you have your own internet-VPN connection. You can either perform database benchmarks or test with your application servers from your data center.  In this case, our technicians will set up a direct coupling from firewall to firewall. The default bandwidth is 10Mbit/s and can be extended if needed up to 100Mbit/s.

5. Certification of your applications

For ISVs we offer to certify applications against Exadata. In doing so, both functionality and performance are tested. You will receive a certificate after passing the exam and can call your application "Exadata tested".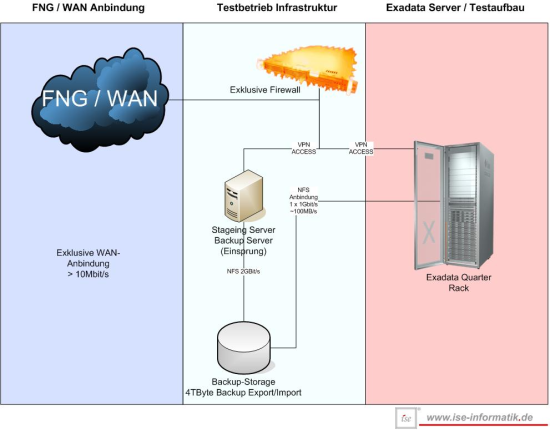 Specification ISE Exadata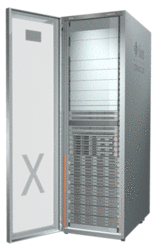 2 Sun Fire™ X4170 Oracle Database servers
3 Exadata Storage Servers (All SAS or all SATA)
2 Sun Datacenter InfiniBand Switch 36
36-port Managed QDR (40Gb/s) InfiniBand switch
1 "Admin" Cisco Ethernet switch
Keyboard, Video, Mouse (KVM) hardware
Redundant PDUs